Rotary Year 2005–2006
John P.T. Lowe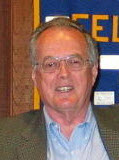 President's Message:
Rotary Celebrates 100 years!! I went to the International Convention in Chicago in early June 2005. The keynote speakers were the outgoing RI President Glenn Estes, Incoming RI President Carl-Wilhelm Stenhammer (Sweden), and Ted Turner (CNN). It was one of the biggest conventions with 39,460 attendees. Conventions are the best way to appreciate the scope and diversity of the Rotary family.
Christmas Party & Toy Drive: Many in the Club wrapped toys with the Police and Fire Departments during a volunteer evening. Mario catered our party. Don and Nancy Hack were very kind and gracious hosts at the Hack Mansion.
Our Club Celebrated Sixty-Year Anniversary:  Chartered on April 22. 1946. A luncheon celebration was held at the San Mateo Credit Union Headquarters on Convention Way. It was great venue for this memorable event, plenty of space, great A/V and great food. Members of City council attended and presented the Club with Proclamation. The Peninsula Sunrise (Breakfast) Club President Andy Frisch being mindful of our relatively older membership roster thoughtfully presented us with fancy gold colored walker for use as needed. It is still in my garage waiting someone to need it.
International Project:  We partnered with other District 5150 clubs to finance a $25,000 water well in Zambia. There were many setbacks and many delays, a contractor bankruptcy, washed out bridges to name a couple. However, two years later the well was completed and produced clean water for a school and nearby village.
Scholarship Awards:  At the May 23, 2005 meeting seven awards were presented and the Club received good publicity in The Daily News. I believe this was the first year that Karen Krueger took over the scholarship committee. With guidance from Roland Haga she did an outstanding job.
Redwood Trees in Otorohanga, New Zealand:  Many years earlier, thanks to the work of Rtn. Frank Parcell, the local Rotary Club received redwood seed that they planted in a reclaimed area that later became a beautiful park. We sent them a congratulatory video and a year or two later Judy and her husband Bob visited the park.
Debunking and Installation at Fabbros Restaurant:  There was widespread dancing in the streets to wave bye-bye to me and welcome Roland Haga as incoming president. Roland was given a Viking helmet with strict orders to wear it at all times during his attendance at the International Convention in Copenhagen.  Apparently I had been too quick to send emails, and far too often!! The video roast featured acting psych counselor Carlos teaching various members how to deal with the expected decline in email volume and the withdrawal symptoms that would follow. Ha!! Ten year later and emails are the norm—so there !! 
Board of Directors
Vice President: Roland N.V. Haga
Past President: Carlos Bolanos
Secretary: Sam Dafnis
Treasurer: Carol Ebner
Directors:
Rod Toews
Carol Ebner
Judy Cooper
Alpio Barbara
Barbara Bonilla
Rosanne Foust
Sam Dafnis
Gregory Roos, D.M.D.
RI President & Theme
Carl-Wilhelm Stenhammar